Aumoon is a solar generator factory manufacturing portable power station, solar generator and LiFePO4 Batteries.
All of our products have already got the CE, FCC, ROHS certificates and UN38.3, MSDS for battery shipment.
SOLAR GENERATOR
Harnessing the sun's energy for free, the best portable power station virtually no maintenance. No fuel or gasoline needed, no fumes! Pack light for your camp trip with Aumoon is a solar generator manufacturers in China.
New Belief Technology Co,. Ltd is the best portable power station and solar generator manufacturers in China, backed by a solid R&D department with a good number of senior engineers and over 20 R&D staff as well as a batch of updated inspection equipment. Fully supported by multiple upstream solution partners from the US and Taiwan, and having professional technology and a wealth of practical experience for portable power station manufacturing, we ensure the technical stability and reliability of various products all through the years. Meanwhile, we have passed a number of internationally recognized technical inspections.The department of Aumoon solar generator manufacturers in China owns dedicated workshops, which are entrusted with management elites with years of experience in production control of scaled OEM for production process control. Equipped with much-advanced equipment for surface treatment, logo printing, assembly and finished product testing, we strictly abide by ISO 9001 standards in our production processes. Through many years of product improvement, our best portable power station has made huge progress in process control, quality control, cost control, efficiency improvement, and shortening of the delivery cycle. Besides, we have successfully produced multiple deliveries of internationally top-level products for customers from Europe and the US.
Aumoon solar generator manufacturers in China specialized in the design, research, development, production and sales of the best portable power station solar generator and LiFePo4 Battery. We promise all batteries are 100% New Grade A Lithium/LiFePO4 Batteries. Guided by the spirit of responsibility for the customers, we keep improving the product quality and strict management of production to ensure every product is qualified before leaving our factory.
All of our products are support OEM services, welcome all brands, Chain stores, wholesalers, and distributor inquiries. Our company offer a competitive price and high-quality products and services.
About the quality control for the best portable power station and batteries, we have strict tests & inspections one by one before production, during production and after finished. The inspection includes raw material checking (shell, battery, PCBA or all accessories ), testing each process during accembling( battery insulating tape fixing/ spot welding, PCBA assembling, semi-product inspection) and finished product test (Charging/ discharging test, finished product visual inspection). Each product has been well tested and packed before shipping.
We have successfully produced multiple deliveries of internationally best portable power station for customers from Europe and the US.
We are manufacturer producing portable power station and solar generator  in china, integrating R & D, production, sales and service of solar generator products.
The company's product line takes "mobile intelligent integration" as the development axis, closely follows the development trend of the industry, develops and puts into production three series of main products: mobile charging equipment, mobile entertainment equipment and mobile storage equipment, which are deeply loved and praised by consumers!
Need power for camping or looking for emergency backup power? A portable solar generator provides power on the go and can keep key home devices running in a power outage. See how Aumoon solar generators compare to standard models and learn how to find the best solar generator for your needs.
Since September this year, the continuous high temperature climate has led to rapid growth in power demand.
With the development of battery technology, portable power station was born. Portable power station stores electric energy in the battery pack and provides emergency power support for users through inverter conversion when power is needed.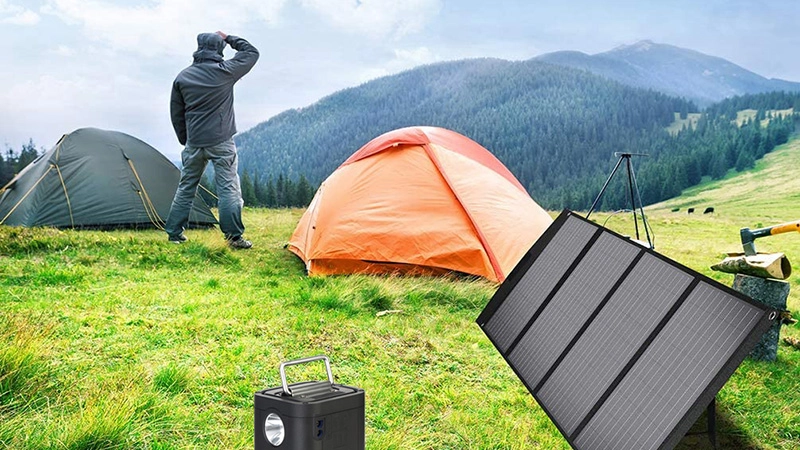 Solar generator is a technical combination of solar panel charger and portable power station.
By teaming up with power stations, solar power can be stored in power station
and keep all your appliances charged.